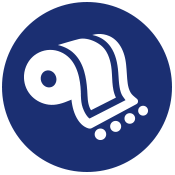 Oriental & Area Rug Cleaning
Oriental and area rug cleaning involves special care—after all, when you've made an investment in a fine floor covering for your home, you want to protect it!
Regency Cleaners is equipped to professionally clean your large and small area rugs, including your valuable Oriental or Persian Rugs, helping them last for generations:
Ensures dust, dirt and allergens that settle deep into the fibers are removed, restoring colors and patterns, and eliminating musty smells while protecting both your investment and your family's health.
Most effective at removing stains and embedded dirt from daily use and traffic patterns that can mar the appearance of your rugs.
No harsh chemicals to react with dyes and cause them to bleed.
No soaking water treatments that can cause your oriental or area rugs to buckle or shrink.
A Protective finish helps reduce future staining.
Keep your oriental and area rugs clean between washings
Vacuuming your rugs regularly (we recommend switching off the brush roll, if possible, to minimize damage to the fibers) is an important step in keeping your rugs clean.
Dirt and stains build up over time, gradually dimming the colors and patterns that made you fall in love with your rugs. Clients are often amazed at the post-cleaning results and wish they'd had their rugs cleaned sooner. We suggest you take a photo of your rug in daylight after it's cleaned and use that to help give you a color reference so you can better gauge when cleaning is needed next.
Drop off your rugs at any of our locations in Durham, Chapel Hill and the RTP area for ease in making your home look its best!