Wash-Dry-Fold
Fill the bag! We take the dirty work out of getting your clothes clean!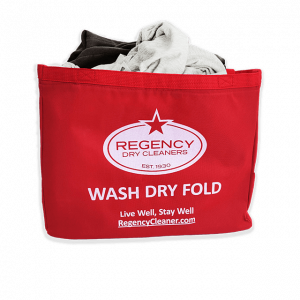 Just use Regency Cleaners wash-dry-fold service.
At Regency Cleaners we'll cut out the need to look for the laundry basket or hamper for those dirty clothes. Regency is now offering our tote and go laundry bag. Regency's new RED Tote is sure to become your dirty laundry's best friend! Fill the tote for only $39.00.
Our new totes are available at all six Regency locations and ready for you to take home. Totes are $8.00 but we are also offering a one-time savings coupon for $8.00 when your tote is used for the first time.
Please note that comforters, pillows, blankets and dry cleaning are not included in the price.
Don't toss it in the wash—toss it in the bag!
No more time or worry about sorting, pre-treating, washing and drying from that never-ending pile of dirty clothes. Gathering dirty laundry has never been so easy! Pick up your first one and find out how easy it is to toss the "dirties," into the bag. For your convenience, we offer drop off, pickup service and over the counter as well. Each bag holds up to 20lbs of dirty laundry.
Save time and money!
At Regency Cleaners, we know your time is valuable and we are here to help you keep it that way! The specialists at Regency take care of the dirty work, so you don't have to! Our WASH-DRY-FOLD service gives you peace of mind that at the end of the day, your clothes will be cleaned and refreshed using Regency Cleaners state-of-the-art cleaning services and products, including:
Our highest-quality detergents
Sanitizers
Softeners
The professionals at Regency Cleaners will wash, dry, neatly fold and package your laundry. It couldn't be any easier for those busy families that truly don't have the time (or patience) to tackle bundles of dirty laundry.
Remember, Regency Cleaners is here for you and thank you for using our WASH-DRY-FOLD service. We know how to keep things clean!