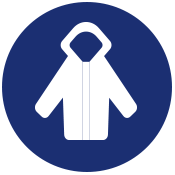 Summer Storage for your Winter Garments
Prepping for summer storage for your winter garments is easy with the help of our professional team at Regency Cleaners.
Our hot and humid North Carolina summers make storage of wool and bulkier items such as wool sweaters, blankets, coats or quilts especially challenging at home, where heat and moisture from attic or garage storage can lead to damage.
This year, protect your winter garments and household items so they're fresh for the return of cool weather. Drop them off for cleaning at Regency and ask about our summer storage service.
Cleaned, stored and packaged to go
First, we'll ensure your winter woolens, sweaters and blankets are fully cleaned, removing the stains and body oils that attract moths and other damage-causing insects. Then, for the best summer storage, your items are carefully folded and tucked into cedar storage bags.
When the cool weather returns, just call us 2-3 days ahead and we'll have your garments freshly packaged and waiting for you. (Please note that we do require pre-payment for storage services.)
You can save yourself the time and labor of washing, folding and storing summer garments, too—we can provide the same services over the winter season!
Just stop by your nearest Regency Cleaners of Durham, Chapel Hill and the RTP area for help protecting and storing your garments during their off-season!