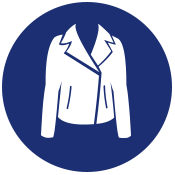 Leather, Suede & UGGs Cleaning
Leather, suede or UGG cleaning requires serious expertise; an inexperienced cleaner can very quickly create more problems than they fix! So, when your favorite coats, jackets, handbags, wool-lined boots and slippers need cleaning and care, choose Regency Cleaners. We are the trusted one-stop resource for Durham, Chapel Hill, RTP and surrounding areas.
Whether your items need a simple seasonal refresh or are marred by stains, soils, mildew, smoke damage or worn finishes, our professionals have the right experience, equipment and know-how to restore these items to their best condition.
Quality care for leather, suede and UGGs includes more than just cleaning
Cleaning alone isn't enough to keep your garments looking their best. These natural materials require restoring, conditioning, deodorizing and often re-coloring. Here's how Regency Cleaners can help your leather and suede items:
Clean and condition all types of leather or suede garments, trims and handbags. (If they have stains, for best results please let our customer service team know when you drop off your items.)
Refinish and restore color in the top coats of your leather goods—we even mix the stains to bring leather items back to their original colors
Treat your leather to protect and prevent unsightly spots and water stains
Remove stickers or other glue-backed labels (tip: don't try to remove them yourself!)
Clean and correct chemical "burn" damage from ice melt or road salts, blood, alcohol and hair products, milk or urine
Kill mold and mildew (and its residual odors)
Clean and renew the finish and texture of suedes, including both outsides and insides of wool-lined boots or slippers (e.g., UGGs, Emu Australia, UGLY, RocketDog)—even refreshing the fluffy fleece linings
Once your leather or suede items are returned clean and fresh, we recommend that you store them in a clean, cool, dry environment that has good air circulation. More importantly, you'll want to find a location that has minimal moisture, which can get trapped and encourage mildew to develop.
Please stop by your closest Regency Cleaners for help—we look forward to giving your well-loved leather, suede and UGGs the best cleaning and care possible!